Paul Scholes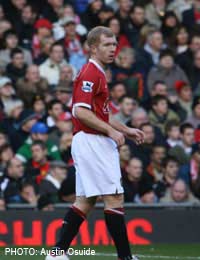 England Caps: 66
Goals: 14
Player: 1997 - 2004
Paul Scholes was the last of the famous batch of young Manchester United 1992 academy players to gain an England cap, yet his impact was probably greater than any of the others apart from David Beckham. Quiet off the field, a man who kept his private life to himself and only ever playing for Manchester United, he and Beckham joined the Neville brothers and Nicky Butt as England regulars in the late 1990's.
Early Days for Manchester United and England
A visionary midfielder strong in the tackle, with superb passing skills and an appetite for coming late into the box to join the strike force, Scholes is one of the few England players to have scored a hat-trick, against Poland in March 1999. At Manchester United he didn't command a regular first team place until the departure of Eric Cantona but then formed a strong partnership with Roy Keane that endured through one of United's most successful phases.
Scholes made an immediate impact on the England team, once Glenn Hoddle gave him his debut as a second-half substitute, in a friendly against South Africa in 1997. He was impressive enough to be given a start in the next match, England's opener in a four-handed friendly tournament in France, the "Tournoi de France". Against Italy Scholes provided the opener for Ian Wright with a perceptive through ball and scored the second himself in a 2-0 win.
World Cup 1998
Four months after that tournament Scholes started in the last World Cup qualifier against Moldova and scored again in a 4-0 win, with England already through. Hopes were high as a good squad went to France for the finals in 1998, and the emergence of Michael Owen as the 'bright young thing' of the squad took the spotlight away from Scholes, who had scored three goals from his seven caps so far, allowing him to relax.
In the opener against Tunisia, Scholes was at the front of a triangular midfield, and with Paul Ince and David Batty either side of him he was given license to roam. Scholes crowned a fine display with what many believe to be his finest England goal. As his marker was taken away by Ince's forward run, Scholes took the a pass from Ince, stepped away from goal to shake off a defender and, from just outside the area, surprised the keeper with a curling right foot shot into the far corner.
Hat-Trick Hero
Unfortunately the team went out in the quarter-final, losing on penalties to Argentina after a Michael Owen wonder goal, David Beckham's sending off, and a disallowed winner from Sol Campbell. The next major tournament was the European Championship of 2000, held jointly by Belgium and the Netherlands. Hoddle had been sacked, for non-footballing reasons, and Kevin Keegan was in position by the time of the qualifier against Poland, when Scholes scored his hat-trick at Wembley.
Despite this, England struggled to qualify, with Scholes unfortunately being the centre of attention in a crucial 0-0 draw with eventual group winners Sweden. Receiving two yellow cards, he became the first England player to ever be sent off at Wembley. Coming second meant that England had to beat Scotland in a two-leg play-off in order to make the finals.
Euro 2000
They were fortunate to have beaten Scotland 2-0 at Hampden Park in the first leg, with Scholes scoring both the goals, as they lost at Wembley, but 1-0 wasn't enough for Scotland. The tournament proper continued in much the same vein and despite beating a woeful German side, the first competitive England win against the old foe since 1966, England did not get out of the qualifying group.
Keegan made way for Sven-Goran Eriksson at the start of the qualifying campaign for the 2002 World Cup, to be held by Japan and South Korea, and Scholes held his position as first choice attacking midfielder, by now with United team-mate Nicky Butt his most regular partner behind him. Scholes started every qualifier, and four of the five friendlies, in the run-up to the finals, scoring regularly, but his eleventh England goal, in a superb 2-0 win in Athens against Greece, turned out to be his last for over two-an-a-half years.
World Cup 2002
This didn't seem to worry anyone apart from the press, as anyone else could see the contribution that he was making. Scholes' goals were just the icing on the cake in terms of what he delivered for the team, and it was his selfless team play, making chances for others, that kept him off the score-sheet.
The World Cup finals saw some impressive performances from a young side that went out at the quarter-final stage to eventual winners Brazil. Scholes took some flak for losing the ball on the half-way line in a move that led to Brazil's equaliser on the stroke of half-time but it was the whole team who couldn't respond in the second half, even when Brazil were down to ten men.
Euro 2004
In the run-up to the next major tournament, Euro 2004 in Portugal, Scholes was still very much a regular, but increasingly found himself on the left-hand side of Eriksson's favoured midfield diamond, with the emerging Frank Lampard in the centre. For once England's qualification was painless, with the exception of a nervous nil-nil draw at home against Turkey in the final match, when defeat would have seen England having to go through via a play-off once more.
At the finals Scholes' goal drought ended with a well-taken header in the group stage win against Croatia, but England finished second in their group, having lost the opener against France. This led to a quarter-final match against the hosts, which ended in a penalty shoot-out, with England going home once more.
Bringing the Curtain Down
Back on home soil, Scholes announced his intention to quit international football in order to focus on his Manchester United career and spend more time with his family, although the general consensus in the press was that it was as much to do with his dissatisfaction at being played out of position. No amount of cajoling by Eriksson and others in the England camp could persuade him to change his mind, and Scholes bowed out at the age of 29, with 66 caps and 14 goals to his credit.
You might also like...