Des Walker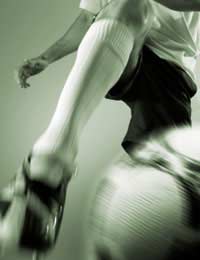 England Caps: 59
Goals: 0
Player: 1988-1993
"You'll Never Beat Des Walker!"
That was the chant that so often rang from the terraces, whether it was at an England match or a Nottingham Forest game during the late 1980's and early 1990's. Walker's performances at Forest as Brian Clough built a new team to replace the aging one that had enjoyed European success started a clamour for his inclusion in the England team for the European Championship of 1988. But manager Bobby Robson didn't select him until after that tournament, in the run up to the 1990 World Cup in Italy.
Blistering Pace
Walker was a straightforward centre-half, very strong in the tackle, even-tempered and with good reading of the game, but what marked him out above all the other potential centre-backs of the era was his blistering pace. He came on as a sub for Tony Adams in a friendly against Denmark in September 1988 and impressed enough to keep that place into the qualifying rounds for Italia '90.
At the time there was fierce competition for places at the back, with Terry Butcher, Tony Adams and Mark Wright all in contention, but Walker became a permanent fixture as Bobby Robson settled on Walker and Butcher as his first choice central partnership.
Italia 1990
Walker played in every match in Italia '90, often in a three-man back line with Mark Wright joining in as the sweeper. In the groups stage match against Holland, Walker superbly shackled Marco van Basten, the man who had torn England's defence to shreds at Euro '88.
All of the knockout games were punishing 120-minute ordeals as England took it to the wire, eventually going out to West Germany in the semi-finals, on penalties. This remains the best performance at a World Cup for any England side since winning in 1966.
New Era
After the tournament Bobby Robson resigned and Terry Butcher retired from international football. Walker was retained by new manager Graham Taylor, initially partnering Mark Wright, as qualifying for Euro '92 commenced. Walker's consistency was impressively demonstrated when he gained his 50th England cap during the campaign, in only 53 England matches.
Euro 92
Although England qualified by finishing top of their group, it had all come down to the last game. Injuries were causing difficulties, particularly in midfield, but also, catastrophically, to Mark Wright just before the tournament. UEFA refused the FA permission to replace him with Tony Adams.
Through the tournament itself Walker played with Arsenal's Martin Keown but he was not yet the fully-fledged international defender he was later to become, and a stuttering side went out without qualifying for the knockout stage.
World Cup 1994
The campaign for the 1994 World Cup, to be held in the USA, was even worse, but for Walker it was to mark the end of his international career. By now playing for Sampdoria in Italy's Seria A, he hadn't settled well and was often being played at full-back rather that at the heart of the defence.
As a result, his England performances suffered as a result and the World Cup campaign was peppered with uncharacteristic errors from Walker. England failed even to qualify for the finals.
Dropped for England
After Graham Taylor's largely disastrous tenure was ended, Terry Venables took up the reigns and Walker was never selected again, despite being only 27 at the time.
He came back from Italy after only one season and played in the Premier League for Sheffield Wednesday for eight seasons, afterward going back to Nottingham Forest for another two. He finally left Forest at the age of 38, having played over 300 matches for them over the two spells.
You might also like...