Gary Neville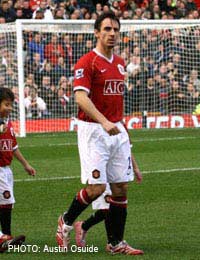 England Caps: 85
Goals: 0
Player: 1995 -
Manchester United's Gary Neville is now England's most successful right full back, with 85 caps to his credit. He was one of a batch of extraordinarily talented teenage players who emerged from the Manchester United youth academy system in 1992 and went on to play for England, alongside his younger brother Phil, David Beckham, Paul Scholes and Nicky Butt.
Partnership with Beckham for Club and Country
A solid defender who started as a central defender during his youth, he is an excellent example of a modern attacking full back, expected to double as a winger, overlapping the midfield to provide effective crosses. It helped a great deal, during his England career, that Beckham was his club partner on the right-hand side as well as at country level, and the two formed a reliable partnership on that side, with Beckham often crediting Neville's support as crucial to his performances.
Neville got into the Manchester United first team in 1992 and was first selected for England by Terry Venables in 1995 for a friendly tournament, the Umbro Cup, held at various grounds around England in June as a dry run for the following summer's Euro 96 tournament. Neville was selected for the opener, a 2-1 win against Japan, and the final match, a 1-3 defeat by Brazil. From then on he was first choice in that position and appeared in the first of his five major competitions at Euro 96 when England were unlucky to go out in the semi-finals to Germany, on penalties.
Following Venables resignation Glenn Hoddle continued the almost automatic selection of Neville and he was taken to the 1998 World Cup, then the European Championships under Kevin Keegan in 2000. Despite being clearly the best left-back in the country, it's the unfortunate lot of defenders that they are remembered more for things that go wrong than spectacular goals that attackers and midfielders get a chance to provide.
Euro 2000 Disappointment
It was in the last minute of the final group match at Euro 2000 that Neville's trip led to a penalty that gave Romania a 3-2 lead, meaning that England could not progress to the second round, but to blame that failure on Neville is short-sighted and unfair. The whole team under Keegan seemed to be unable to gel and over the three matches the performances were not good enough to justify qualification.
World Cup 2002: Double Disaster
Keegan did not last much longer and Sven-Goran Eriksson continued Neville's virtually uninterrupted run in the England side. He hit the headlines in an unfortunate way again with an own goal in the 2002 World Cup qualifier against Finland, deflecting a Rihilahti header past David Seaman. Fortunately it was early in the game and team rallied to win 2-1, with Neville atoning by providing the cross that Andy Cole knocked back to Michael Owen for the equaliser just before half-time.
A broken foot meant he had to sit out the finals in Japan and South Korea. Leeds United's Danny Mills proved an able deputy but it speaks volumes that Neville was back in the saddle as soon as he was fit again. For Euro 2004 Neville was ever-present, as he was for the World Cup of 2006 in Germany.
Captaincy Hopes
By that time he was also the Manchester United captain, having been appointed after Roy Keane's departure in 2005. After the 2006 tournament Eriksson handed over to Steve McClaren, and David Beckham resigned as England captain. There was much debate about Beckham's successor and Neville was considered a serious contender, having occasionally deputised, but, as he was by then 31 years old, the smart money was on a younger player such as Steven Gerrard or John Terry, and Terry finally got the nod.
Croatia Doom England's Euro 2008 Chances
Neville was still a shoo-in for the right back slot for the Euro 2008 qualification process but that got off to a bad start with a nil-nil draw at home against unfancied Macedonia and then a 2-0 defeat in Croatia. It was in that latter match that Neville was awarded his second own goal for England, as his back-pass bobbled up on the pitch, over goalkeeper Paul Robinson's air-kick. Although this was more Robinson's error, it had to be marked down as a goal by Neville.
This time there was no comeback and England lost to Croatia again in the final match at Wembley, when a draw would have been enough for them to qualify. By this time Neville was on the sidelines, having suffered an ankle injury in March 2007, which was then compounded by a calf muscle later in that same year.
While Neville has been out of action, Manchester City's young Micah Richards has emerged as the player most likely to take Neville's crown, but he is not yet the finished article despite having put in some impressive performances.
Caps Record in Sight
If, when fit, Neville can regain his place and get two more caps, he will then become England's most capped full back, as Kenny Sansom, England's left-back for most of the 1980s, has 86 caps. Neville would then also become the country's eight most capped player outright, a fitting measure of his performance and reliability.
You might also like...