The Career of Alan Ball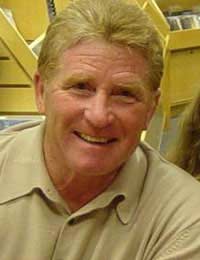 Man of the Match World Cup Final 1966
England Caps: 72
Goals: 8
Player: 1965 - 1975
Football is in Alan Ball's blood; his father was a well-known footballer and manager who had been capped once for England. Ball started at Blackpool after being rejected by a number of teams for being too small and it was his father's influence that got Blackpool to give him a trial.
Spotted by Sir Alf
Blackpool were a struggling side although they were then still in the top division, but Alf Ramsey spotted the dynamic midfielder-cum-winger and gave him his debut in a tour friendly against Yugoslavia, just over a year before the 1966 World Cup, and three days before Ball's twentieth birthday.
That was it as far as Ramsey was concerned. Always unafraid to pick people who fitted the way he wanted England to play, Ramsey saw in Ball a player who could come inside and defend as well as attack in a wingless formation, or go out to the wing if necessary. Ramsey settled on Martin Peters for the left and Ball on the right.
World Cup Winner
Ball was the youngest England player at the World Cup and his energy and enthusiasm were vital to the team. The is an abiding vision of him running down the pitch at the end of extra time, socks around his ankles, to support Geoff Hurst just as he scored his third, and England's fourth goal.
He had been a vital part of the win, sending an outswinging corner over for England's second goal and crossing for Hurst to hit against the crossbar for the contentious third. Ball was one of the big success stories of the World Cup and it was no surprise that he transferred to Everton soon afterward.
England Regular
As far as the England team was concerned, Ball was now a regular and scored three times in the next year, although never looked upon as a goal scorer. He drove the England midfield alongside Bobby Charlton through the 1968 European Championships were England were unlucky to lose 0-1 to Yugoslavia in the semi-final, and ended up taking third spot.
1970 World Cup
The next stage was the World Cup of 1970 where the eagerly awaited match between Bobby Moore and Pele ended with a 1-0 win for Brazil. Ball beat the keeper but not the crossbar as he inspired a fight-back after the goal. England went on to the quarter-finals but lost to West Germany 2-3 after being two-nil up, a match that, in hindsight, heralded the decline of the national team.
Arsenal and England
For Ball his performance at the World Cup was another personal success that led to a club move, this time to Arsenal, but England were unable to qualify for the next major tournament, the 1972 European Championship. Ball played an ignominious part in the 1974 World Cup qualification, becoming only the second England player to be sent off, when he rose to the baiting of violent Polish tactics in the away match.
This meant that he missed the return at Wembley, where a must-win match ended in a 1-1 draw, despite the Polish goal being peppered with shots all night. Ramsey was sacked following the failure to qualify and Ball never played for caretaker manager Joe Mercer, although this was down to an injury.
Disrespectful End for a Faithful Servant
When Don Revie took over, he installed Ball as captain for the first six matches and it looked as though he would continue his run in the side, being then only just thirty. But, in a move characteristic of Revie's largely disastrous reign, Ball was dropped without warning or notice, even though he had been pivotal in the previous match, a 5-1 defeat of Scotland.Newspapers were both angry and sympathetic, especially since it was a call from a reporter that had broken the news to Ball's wife, but still Ball never played for England again. In gaining 72 caps over a decade, only eighteen of those matches had been lost.
Millennium Decoration
He played on for Arsenal until 1976, then had a stint at Southampton before trying a variety of managerial and playing jobs, some successful and some less so. As a gesture to mark the Millennium, the Queen awarded Ball the MBE, along with the other members of the World Cup winning side who had not yet been decorated.
In recent years he has been in the news as a result of his wife and daughter's battles against cancer, and in 2005, he auctioned off his World Cup winners medal and cap, raising £140,000 to secure the future of his children and grandchildren.
On 25th April 2007 World Cup winner Alan Ball died of a heart attack at the age of 61. Sir Bobby Charlton his midfield partner in 1966 said: "He was probably the best player that day and if it had not been for his impact the result could have been totally different."
You might also like...