England's World Cup 2010 Qualifying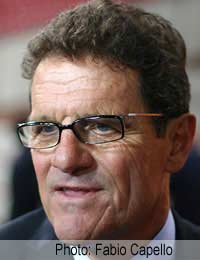 When England's qualifying group for the 2010 World Cup in South Africa was drawn out of the hat it sent shivers down the spines of England football fans. Once more England were to face their nemesis from the 2008 European Championships, Croatia. Would England be a different proposition this time around, with a new manager at the helm?
Not only had England lost to Croatia in Zagreb in the Euro 2008 group game but they had humiliated a one-dimensional England side in the last game. With England needing at least a draw to go through and Croatia already qualified, the 2-3 defeat put the seal on Steve McClaren's short tenure as England manager.
Enter Fabio Capello
New manager Fabio Capello had five friendlies to get the measure of the England squad before winning his first competitive match. This was a solid but uninspiring 2-0 away win against group minnows Andorra with half-time substitute Joe Cole scoring both the goals. Four days later Capello faced his first real test, England's return to Zagreb and Croatia.
The last thing any England fans expected was a walkover, but that's what they got. Young Arsenal forward Theo Walcott scored his first international hat-trick in a 1-4 victory with England becoming the first international side to win a competitive match in Croatia. Admittedly Croatia had a man sent off in the fifty-first minute but England were already winning by then.
Steady Progress Towards 2010
After this dream start regular England watchers remained wary as slip-ups against lesser sides are a common feature of England qualifying campaigns. But confidence slowly came back as England carried on winning matches, dispatching Kazakhstan and Belarus before the next test, Ukraine at home. This was a hard fought match with a 2-1 win sealed by a late John Terry goal.
Two more wins against lesser opposition, Kazakhstan and Andorra, were won 4-0 and 6-0 respectively before Croatia came to Wembley. By this time Croatia and Ukraine, England's most dangerous opponents, had drawn both their matches against each other, the best possible results for England. This meant that a draw would be enough to see England qualify.
Croatian Clincher
Knowing that Croatia had ruined England's chances in the 2008 European Championship qualification made this a particularly jittery night for the fans, even though Croatia were missing Luka Modric, their talented playmaker. But a seventh minute penalty, taken by Frank Lampard, settled the nerves and ten minutes later Steven Gerrard made it 2-0 with a header from an Aaron Lennon cross.
Lampard and Gerrard both went on to score second goals and Wayne Rooney added the fifth towards the end of the match. England had qualified in style and for the first time dared to believe that they could achieve something at the 2010 World Cup. The only hiccup came with defeat in the last but one match against Ukraine a month later.
England's Only Defeat
Before a quarter of an hour had passed England had conceded a penalty and keeper Robert Green had been sent off. Fortunately Shevchenko missed the penalty but Nazarenko scored a few minutes later, only the sixth goal that England had conceded in qualifying. But the second half fight back held great promise, with England keeping Ukraine in their own half for much of the closing stages and Rooney going agonisingly close to scoring an equaliser in the final minute. The win set Ukraine up to claim second spot and a place in the play-offs for the last four places in the finals.
With a 3-0 win in the final match against Belarus England went through at the top of the table and were the first European team to qualify for the World Cup. Qualifying with two matches to go, England also had the highest goal tally for the ten games. At thirty-four this was eight more than Germany, the second highest.
The Age of Capello
Capello has impressed by refusing to pick players who are not playing regularly for their clubs and stamping his authority on the side. When Capello put David Beckham on you got the feeling that it was a decision based on Beckham's current form rather than McClaren's desperate measures to save the team and himself.
The make up of the team has remained as settled as injuries would allow but it is noticeable that stars from the early matches, such as Theo Walcott and Joe Cole, are only just returning to fitness. And although the defensive record looks excellent on paper, the solidity of the defence wobbled slightly in the last couple of games. The lack of a clear favourite goalkeeper is a worry too.
Football Fans Look Forward
After the disappointment of the 2006 Word Cup, when the 'golden generation' signally failed to deliver, England fans will be more careful about predicting great things for the coming World Cup. England have started a steady rise through the top ten of FIFA's world rankings and currently sit at number seven.
Much will hang on the draw for the finals groups in December 2009. But there is an air of cautious optimism surrounding England's chances in the World Cup. It is probably the healthiest atmosphere surrounding an England team in the lead up a major tournament since Euro 96, when football so nearly came home.
You might also like...