England Football Team Quiz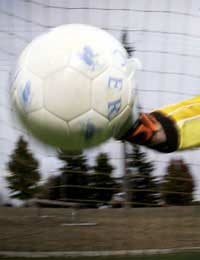 Easy Questions
Most of these are taken from the last twenty years so younger team members are more likely to be able to get them.
Who is the youngest player to have been capped for England's full team (as of May 2007)?

Answer: Theo Walcott was 17 years and 75 days old when he appeared against Hungary at Old Trafford on May 30th 2006

What was the score when England beat Germany in Munich on 1st September 2001?

Answer: 5-1

Who scored the penalty to beat Argentina 1-0 in the 2002 World Cup's so-called "Group of Death" match?

Answer: David Beckham

Who holds the current record for the most caps awarded to an England player?

Answer: Peter Shilton 125 caps

Which current England star had many of his caps stolen when his house was burgled in July 2006?

Answer: Wayne Rooney

Frank Lampard and Stevie Gerrard did not score their penalties in the shoot-out against Portugal at the end of the World Cup 2006 quarter-final. Who was the third player who could not convert his spot-kick?

Answer: Jamie Carragher

Two current England players (in 2007) have scored hat-tricks in full internationals. Michael Owen is one of them, can you name the other?

Answer: Peter Crouch, in a friendly against Jamaica at Old Trafford on 3rd June 2006

Current England number one goalie Paul Robinson's unfortunate gaff against Croatia in October 2006 prevented him from overhauling which legendary England keeper's record of seven clean sheets in a row?

Answer: Gordon Banks, between 4th May and 26th July 1966

Who is the only England player to have been sent off twice?

Answer: David Beckham, a straight red against Argentina in the 1998 World cup and two yellows against Austria in a 2006 qualifier.

England's best performance in a European Championship was reaching the semi-finals against Germany in 1996. Two Premiership managers played in the team that lost on that day, one was Stuart Pearce, who is the other?

Answer: Gareth Southgate, currently at Middlesbrough
A little bit harder
These questions go back in time and are a little more obscure, good for fanatics.
Who is the OUTFIELD player who has been awarded the most caps for England?

Answer: Bobby Moore, awarded his 108th cap against Italy, 14th November 1973 (Peter Shilton has 125 but is not an outfield player).

Which England legend holds the record for the most hat-tricks scored in internationals?

Answer: Jimmy Greaves

In which year was the first ever international, between England and Scotland?

Answer: 1872

The first England cap was awarded in which year?

Answer:1886

In 1908 England went on a short European tour and played their first official internationals against teams from outside the British Isles. Which two national sides did they play?

Answer: Austria (twice) and Hungary; they won all three matches.

In which year did England first contest the World Cup?

Answer: 1950, in Brazil; England failed to qualify from the group stage.

Who was the youngest England player on the pitch for the 1966 World Cup final?

Answer: Blackpool's Alan Ball

Who was the oldest player to be capped for England?

Answer: Stanley Matthews, he was 42 years and 103 days old when he played against Denmark on 15th May 1957

Which legendary player heads the goal-scoring table for England?

Answer: Bobby Charlton, 49 goals.

Who has scored the most goals for England at World Cup tournaments?

Answer: Gary Lineker with eleven. Seven goals in Mexico in 1986 (winning the Golden Boot) and four at Italia '90
You might also like...