West Ham Utd, Which Player Scored for England?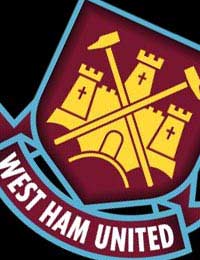 Q.
Before Matthew Upson, who was the last West Ham Utd player to score for England in competitive or friendly internationals?
(Mr Andy Harn, 17 December 2008)

A.
This was a great question which had the England Caps team scrabbling frantically all over the reference books in the end.
West Ham Provided England's Current Core
Before that the arguments raged in the office between those who thought that one of the current crop of England players provided by the West Ham youth system would take it, and those who plumped for the last time that West Ham provided a significant number of players for the national side, the 1960s.
These days West Ham can claim responsibility for the spine of the England side, with Rio Ferdinand and Frank Lampard first choice players, Joe Cole frequently in there and Michael Carrick a squad regular. All were products of a prolific West Ham youth system.
Glory Days of '66
It was a similar story with the England side that won the 1966 World Cup and, arguably, should have retained it in 1970. That side was of course led by Bobby Moore, with hat-trick hero Geoff Hurst at the front and 'The Ghost', Martin Peters, playing midfield in Alf Ramsey's technically challenging 4-3-3, the so-called 'wingless wonders'.
In those days players moved clubs much less frequently so it is easier to check which club someone was playing for when they made their England appearances.
Capped Hammers of the Eighties and Nineties
Then Trevor Brooking's name came up. His partnership in the England side with Kevin Keegan lead to 47 caps and 5 goals and even without checking we knew that he had put the 1966 heroes out of the running.
Ian Wright then entered the frame. A prolific goalscorer for Arsenal, he had played a season for the Hammers toward the end of his England career. Stuart Pearce had done the same, but as he had only scored a couple of times for England we were fairly sure he wasn't a contender.
Into the Reference Books
It was time to consult the books of wisdom, and there were a couple of surprises in store. First we were able to clarify that Ian Wright had only played one England game, his last, as a Hammer and hadn't scored. But we had forgotten Alan Devonshire, the elegant wide midfielder who played for West Ham for nearly fifteen years and won eight caps in the early Eighties. But again, he hadn't hit the net.
Another surprise entrant was Paul Goddard, a record signing for the Hammers for £800,000 in 1980 from QPR who was their top scorer for 1982-83. His performances that season led to an England debut in a friendly against Iceland but despite scoring he never appeared in an England shirt again.
More Research
So that was that, Goddard had won, unless we could show that any of the current crop of former West Ham players had scored for England before moving on. Carrick and Ferdinand fell at the first post, Carrick because he hasn't scored as international goal yet, Ferdinand because he left West Ham for Leeds early on in his England career. He didn't open his international account until a year and a half later.
Frank Lampard left West Ham shortly after Ferdinand and although, like Ferdinand, he had already started to make regular England appearances, it wasn't until 2003 that he scored his first international goal, in a friendly against Croatia. It was the same story with Joe Cole, who also scored his first England goal in a friendly in 2003, this time against Serbia and Montenegro.
Final Answer
Joe Cole had only left West Ham, for Chelsea, at the end of the 2003 season, after they had been relegated by a whisker. Time for yet more research. It was finally clarified; Joe Cole scored his first England goal on the 3rd June 2003 and was transferred to Chelsea toward the end of the summer break, in August.
So finally we had our answer. Joe Cole was the last West Ham player to score for England before Upson's 'man of the match' winning performance against Germany.
Thanks for the question!
You might also like...