First Female Football Centurion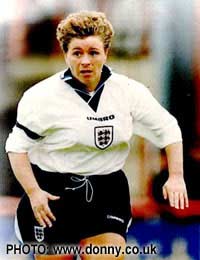 While the fuss about David Beckham's entry into the ranks of England footballing centurions was to be expected, another England centurion quietly amassed 119 caps without a great deal of attention being paid, largely because she is female. The result of this achievement is that Gillian Coultard is second only to goalkeeper Peter Shilton in the all-time England caps table, after a career as a first choice midfielder for the female England team for nearly twenty years.
Often likened to Manchester United and England's Bryan Robson, Coultard, of Doncaster Belles and England, retired from international football in October 2000. She had made her England debut against the Republic of Ireland in a 3-1 victory in May 1981, although she had been spotted and brought into the female national training sessions from the age of 13 onward.
Doncaster Belle
Playing club football for the team that dominated the female sport in the 1980s and 1990s she had started on the right wing but switched to central midfield and stayed there until the last phase of her career. A typical ball-winning midfield dynamo, despite being only five feet tall Coultard dominated games for the Belles, running from box to box with an astonishing work rate.
The Belles were an amateur side, as were all the female football sides of the time, and despite lucrative offers from clubs in Belgium, Italy and Sweden, Coultard stayed loyal to the Belles and captained them to two national league titles and six women's FA Cup triumphs.
International Tournaments
At international level Coultard was a mainstay of the female England sides that went to four European Championships during the 1980s and 1990s, often playing alongside Hope Powell, now the coach of the female England side. England reached the semi-finals twice and were runners-up in 1984.
Coultard's crowning achievement at international level was to appear in the 1995 World Cup. Playing in Sweden the England team lost in the quarter final against eventual winners Germany and went out of the competition, Coultard's first and last World Cup Tournament.
Record Breaking Career
Coultard played her one hundredth game for the female England side against Scotland in 1997 but her record breaking exploits were not restricted to caps. She played in the first England team to appear at a FIFA sanctioned female World Cup tournament and was the first woman to score a World Cup goal as she bagged two in a 3-2 defeat of Canada. She was also the first female player to score for England at Wembley, one of thirty England goals she was to amass during her long England career.
Toward the end of her career she moved to a deeper midfield position, playing as a sweeper in front of the defensive line, with the result that she was able to play on for both club and country well into her thirties.
Taking The Female Sport To The Next Generation
At the age of 37 Coultard announced her retirement from international football but did not abandon the sport. She concentrated on her coaching role at the National Women's Football Academy in Durham and is still there to this day, encouraging new blood into the sport's national side. Her final international was the 1-0 win against Switzerland in May 2000.
You might also like...