Gilbert Smith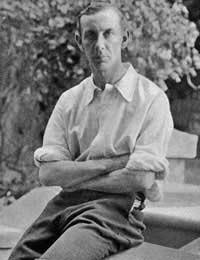 England Caps: 20
Goals: 11
Player: 1893 - 1901
Gilbert Oswald Smith known either as 'Gee-Oh' or plain 'Jo' from his initials, was a larger than life figure at the turn of the nineteenth century, one of the first great centre-forwards and the first real public personality to emerge from football. An amateur at the time when the professionals were slowly taking over, Smith played for Corinthians, one of the few 'gentlemen' sides who could still give professional sides a run for their money.
Top Class Beginnings
Smith attended Charterhouse School where Association Football had been taken up very keenly, and went to play for Oxford University, becoming their captain in his final year. After leaving Oxford he went to Corinthians and became their captain too. His first England match was against Ireland in 1893 where he scored in a 6-1 win for England.
Not your Typical Build – and no Heading!
Smith was a slight chap and an asthma sufferer but opponents found him hard to muscle off the ball. He had excellent ball control, great distribution and specialised in drawing opponents to him before releasing the ball to another striker. For England that partner was often the great Steve Bloomer, who stated that he would rather play with G.O. than any other centre-forward.
Bizarrely, for the first prominent English centre-forward, he refused to head the ball! In fact he expressed the opinion that he would be happy for heading to be banned and considered that all football should be played along the ground, an opinion that would have many England supporters cheering him even today.
Captaincy Beckons
Smith's success at both scoring and making goals increased his popularity and his natural and unassuming leadership style meant that he was soon selected to captain England. This was probably for the Home Championship match against Ireland, shown as his fifth cap. Records disagree, hence the 'probably'; many records show this as his first captaincy, but others either don't record a captain or credit George Raikes instead, but he definitely captained the match against Scotland a month later.
How Many Games?
Records also differ as to the number of games that G.O. Smith played for England. The FA show 17, but their records of the early years and G.O. Smith in particular are flaky. Otherwise the official figure is 20 but some sources have 21, some even 24; either way it's a remarkable number considering there were only two or three internationals each year. He is down as having scored 11 goals and captained the side at least 13 times, possibly on as many as 16 occasions.
Top Class Ending
After his last international Smith retired from active playing and moved into teaching, at prep school that sent boys to Eton. He ended up as the joint headmaster at the school, Ludgrove School, in a partnership with William Oakley, another England captain, Corinthians colleague and great friend of Smith's.
In club football he was astonishingly successful, playing 131 games, he scored 113 goals to produce one of the best scoring averages in English football history. Along with his England exploits this helped him to become a role model for schoolboys for decades to come. He was undoubtedly the best known footballer, if not sportsman, of his age, being recognisable simply from this initials, G.O.
You might also like...